Finally I can get around to doing this! I was contacted by artist Ty Hulse a while back to review
The World of Fairy: A Sketch Book & Artists Guide to Fairies
and after receiving it this past Thursday, I nervously went through the book over the weekend and tried to figure out what to say about it. So this is all my opinion on the art and the book in general, blah blah blah. I don't really know the right term for some things, so bear with me. Okaaaay, here goes.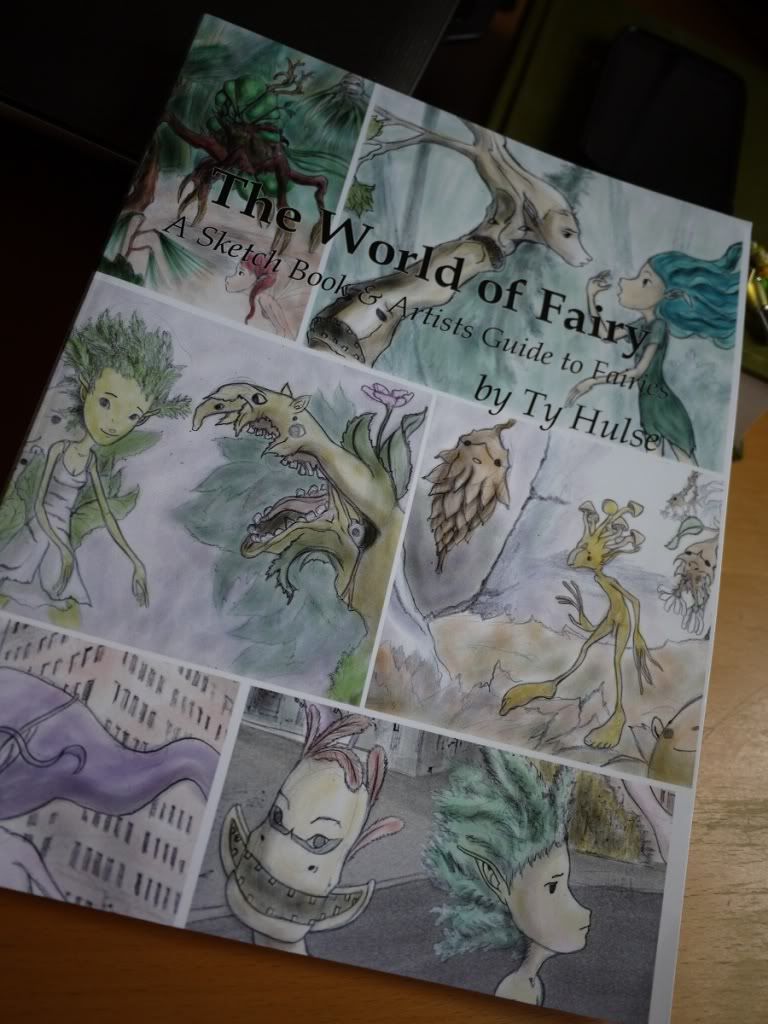 I must admit, I thought this review was going to be done Thursday night or Friday morning latest. When I got the book, it was quite thin so I sort of put it off to Friday/the weekend to look through it. When I finally found time to sit down and go through this, I took two days (haha, yep). This isn't just a simple sketch book, it actually has various quotes and stories about fairies! That's one of the reasons I really enjoyed it, it gave me something to think about while admiring the art. I know that sounds somewhat childish, but sometimes a picture doesn't really mean much to me until I have something (anything) related to it
told
to me.
"Humans would tie bits of cloth and or paper to trees as offerings and as a means of communicating with the spirits within" (Funny, this reminded me of the Chinese wishing tree where we write our wishes on paper and throw it up onto a tree. How cool is that?)




So this is still an art book, so let's talk about the art! I honestly know nothing about art, but I know what I like. This is what I like.
Not everything is in colour, but whatever is in colour is gorgeous! The first quarter (maybe even half?) of the pieces are very soft and I absolutely love the different shades of green. Damn it I love green.
Love that cloudy greyish tone in the softer pieces. For me, the cloudiness (you know, the powdery look?) really gives off that fantasy element of fairies.
I hate to admit it but I'm loving the pink. Yes, pink =P
One of my faves! I love the shading..something more gloomy (just the way I like it hahaha)
I didn't see as many bold colours throughout the book, but here's one that I love...
Again, the green is just beautiful here. The red is what really pops, but I just can't take my eyes off the green and the little flecks of yellow/gold ;)
There were some black and white pieces which really showed off how well Hulse can sketch. I love how everything is conveyed so...clearly. I can't explain this without showing you =P
Scary looking monster's teeth looking razor sharp, and cute owl looking super fluffy. It's amazing what various lines and a bit of shading can do.
And that's really all I have for this book. I did take more pictures than I ended up including in this post, but I limited myself to just the few that really put out what I wanted to get across to you. I think I've mentioned a long time ago that I studied world religion and Greek mythology throughout university and absolutely loved it. Going through this book gave me that same feeling. It's as if I was learning the traditions of fairies, if that makes any sense (not sure if traditions is the right word for it, but you get the point I hope?).
Aside from the art being very beautiful, I do have some small things I wanted to point out regarding the book. Even though the text was very helpful in appreciating the art, it was a bit overwhelming at times. There were some pages with large amounts of text which was a lot to digest. It would be nice if some art pieces were placed between them to break up the reading a bit, especially that full page of pure text. It really helps to let the little blurbs you read sink in by checking out a simple fairy sketch or something before going on to reading more. Another small (and sort of unnecessary) thing I would have done was use a more cursive type font. I think it would really match the lovely art work!
Overall, I had a very enjoyable weekend of reading. I'm someone who likes to read and having lots of little interesting stories and snippets about fairies to go through while admiring the art was a major plus for me. I highly doubt it'll take any of you two days to go through it though, haha. I just like to read and re-read some text. The colour choices were always beautiful and delicate, which certainly felt very "fairy-like" and almost magical.
If anyone is interested in learning more about Ty Hulse's art or this book, please visit
this site
for more details.
Hope everyone liked this little review, and enjoy the rest of your Sundays!